Not much more I can say. This speaks for itself.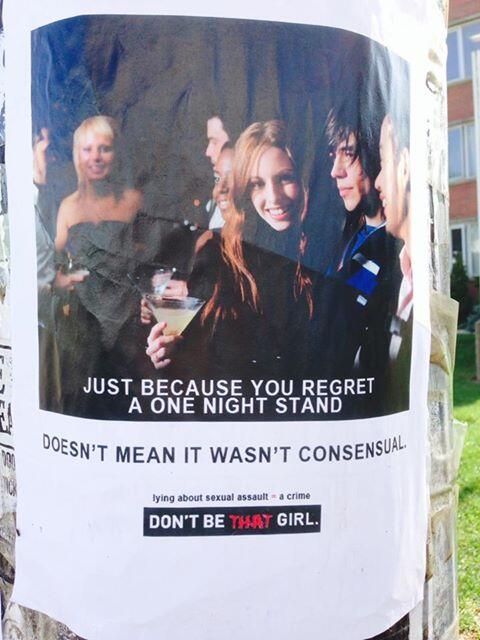 Article on Global News Canada: "'Don't be that girl' posters spark debate in Edmonton" — Excerpt:
Calgary Communities Against Sexual Abuse (CCASA) also responded to the campaign with a blog post, writing: "This poster which has mimicked itself after the "Don't Be That Guy" Campaign has crossed a line by using incorrect information to try to make a point that is absolutely false, inaccurate and 100% incorrect."

"I think what their campaign is saying is that women lie about rape, about sexual assault to get back at a boyfriend," said Karen Smith, executive director of the Sexual Assault Centre of Edmonton. She cited national statistics as evidence that false reports don't actually happen as often as some people may think.

"One to two percent of sexual assaults reported to the police would be false. And that would be the same for any other crime that would be reported to the police."

The same figure was also used by Acting Insp. Sean Armstrong of the Serious Crime Branch, which includes the Sexual Assault Section. Armstrong says that in the four and a half years he worked as a sexual assault detective, he came across only one false report.

"And I dealt with numerous files; many, many, many files. So they're extremely rare."
Read the rest of the article here…and read more on the myth of frequent false accusations here and here and here.
May you find peace.